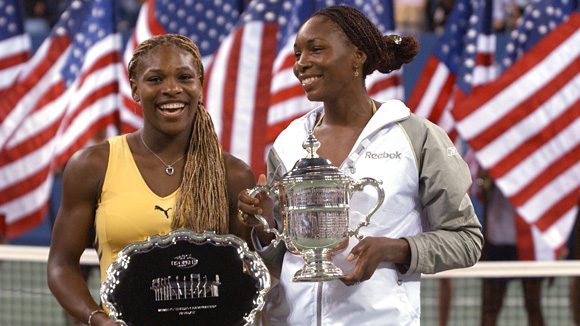 At the end of last year, I was convinced 2009 was going to be the year of Venus. I predicted Venus would finally leave Serena in the dust. I felt Venus would conquer in Australia, rule Wimbledon and shine at the US Open. 2008 was a great year for Venus, she won the Year-End Championships and Wimbledon. I've never been a die-hard Venus Williams fan, so I felt my prediction was not biased in any way.



Unfortunately, this has not been the "Year of Venus" I initially imagined. Despite winning the Year-End Championships in Doha this past November, and coming into the Australian Open red-hot, her results have been less than stellar. Venus lost in the third round in Australia, in a shocking upset, while most her fans in US lay sleeping.

This week, Venus won Dubai (a premier event) by edging her sister in the semifinals. What does this mean? Absolutely nothing. The buzz is out about Venus returning to a Top-5 ranking since 2002, but unfortunately this event signals little as to what the rest of the year will be like for Venus. You see, Venus holds a 10-9 record versus Serena in head-to-head match ups. But the real measure is Serena's 10 Grand Slams to Venus' 7.

It's apparent that the matches between the two sisters have developed into heated battles. They BOTH want to win! And, as everyone is starting to say, time is running out for both. Each win seems to matter more now, as they contemplate their individual legacies. Especially when considering Grand Slam totals. The problem for Venus, in my opinion, is that it's a little late to start getting pumped up about beating Serena. In the numerous Grand Slam Championships they've played each other, Serena holds a 5-2 lead over Venus. Serena brought a raw, angry determination to her matches, that uttered, "I'm the best player on this court." Venus, on the other hand, walked around the tour in those early days making way for her sister, photographing her, and applauding her. That was sweet. But it may have hurt her chances of overtaking her sister in the "grand slam" scheme of things.

So, back to the current. Venus winning Dubai, earning 800 points and beating Serena along the way, means little. Venus may go on to win Wimbledon this year, for her 8th Grand Slam Title. That's dandy, but she'll never match Serena's legacy now, as she nears the last half of her illustrious tennis career. During the first part of their rivalry, Venus held a mental edge over Serena. But instead of focusing on her own legacy in the sport, Venus was too busy coddling her younger sister's ego. And because of this, Venus allowed Serena to believe she was the better of the two. Nearly a decade later, it would appear that the lead Venus gave Serena is simply too wide to close. In a way, Serena has Venus to thank for her memorable career.